Proven CDL Truck Driving Programs
CHOOSE THE PROGRAM THAT'S RIGHT FOR YOU
HDS Truck Driving Institute specializes in helping you hit the road for a successful future. We offer several training and testing programs to meet your needs. Whether you feel comfortable with a big rig and want to be on the road in as little as 4 weeks, or want a more comprehensive experience, we have the program for you.
During your training, we will be with you every step of the way to ensure your success. Our Job Placement Coordinator will work with you during your program to help you with a job opportunity after you receive your CDL.
CDL DRIVER TRAINING PROGRAM (CLASS B LICENSE)
If you are anxious to get on the road, you can earn your CDL in as little as 4 weeks. The experienced instructors in our CDL driver training program will teach you how to successfully pass your CDL permit test. You will receive a combination of classroom instruction, lessons on the range and hands-on road training. This program includes a passenger endorsement.
CDL TRAINING PROGRAM (CLASS A & B LICENSE)
The CDL Training Program consists of classroom and range/yard training. During the first week, you will be in the classroom preparing to pass your written permit test. At the end of program, one of our experienced trainers will supervise your on-the-road training. This is where you will gain the knowledge and confidence to operate a truck safely and efficiently. This program includes three endorsements: Tank, Doubles/Triples and Hazardous Material.
Topics Covered
Pre- and Post-Trip Inspections

Cab Familiarization

Proper Shifting Techniques

Backing, Turning and Parking

Hazardous Material

Basic Road Skills
PROFESSIONAL TRUCK DRIVER TRAINING PROGRAM
Successfully completing the Professional Truck Driver Training Program is like earning your master's degree in trucking. This comprehensive program doesn't just train you to drive—it advances your level of knowledge through instructor presentations, video demonstrations, student discussions, group activities and hands-on training—enriching your learning journey.
You will cover the same topics in the CDL training program, but will receive valuable additional material that will help you develop a deeper understanding of operating a semi-tractor and trailer. This program includes three endorsements: Tank, Doubles/Triples and Hazardous Material.
After successfully obtaining your CDL, you will complete your externship under the guidance and direction of a driver-trainer with a qualified trucking company. This comprehensive program gives you the skills, knowledge and confidence for a successful career in trucking. Click here for Gainful Employment Information.
Topics Covered:
Driving Techniques and Maneuvers

Safety Awareness

Trip Planning and Logging Skills

Map Reading

Time Management

Roadside Inspection Guidelines

Hazardous Material

Scale Operations

Weight Distribution

Coupling & Uncoupling

Loading, Securing & Unloading Cargo

Night Time Operations

Preventative Maintenance
TESTING AND REFRESHER COURSES
We also offer training by the hour, refresher courses and road testing that can be tailored to meet your individual needs.
Class A and Class B training and testing

Refresher courses

Road testing

Third-party CDL testing

Hourly training
CALL TODAY TO GET STARTED
Ready for a more exciting career? Ready to go places? Ready to make more money? Call 877.205.2141 to find out how soon you can get started.  One of our advisors will walk you through the process of obtaining your CDL and explain how we can help you become a professional truck driver.
Contact Us
Tucson
6251 S. Wilmot Road
Tucson
,
AZ
85756
877.205.2141
Yuma
3180 E. 32nd St.
Yuma
,
AZ
85365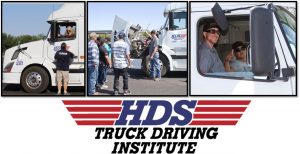 CAREER FAIR:
SEPTEMBER 20th
2:30 pm to 5:30 pm
You don't want to miss this CDL Class A Career Fair! Talk with companies about employment opportunities in the transportation industry and start making the money you deserve! Learn about the NEW Swift and DSW Apprenticeship Programs for Veterans, DSW's NEW pay scale and CTI's local jobs! Fill out an application and have some light refreshments! There will also be a raffle for valuable door prizes.
Call us today at 877.205.2141!