Start Your Truck Driving Career With HDS
For more information about HDS Truck Driving Institute and how we can get you on the road to a new career, please feel free to contact us by phone, send us an email, or use the form below.
Call us toll-free: (877) 205-2141
Email: hdstruckdrivinginstitute@gmail.com
Tucson Truck Driving Office
Tucson Directions: We are just south of Valencia Road between Kolb Road and Alvernon Way. From Interstate 10, take Exit 269 and drive a mile and a half north on Wilmot Road. If you are taking the bus, give us a call and we will help you make arrangements.
Yuma Truck Driving Office
Contact Us
Tucson
6251 S. Wilmot Road
Tucson
,
AZ
85756
877.205.2141
Yuma
3180 E. 32nd St.
Yuma
,
AZ
85365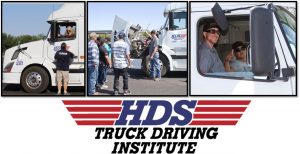 DON'T MISS OUR
NEXT OPEN HOUSE
Come drive a semi and see what it feels like to be in the captain's seat! Tour the school and learn about a career on the open road. A career with freedom: no boss looking over your shoulder, no cubicles and boring daily routines. Driving lets you see the country on your own schedule and make a great paycheck too.
Call us today at 877.205.2141!