Tucson CDL Training Admission Requirements
Applicants must either possess a high school diploma or a recognized equivalent like a GED or, depending on the program, demonstrate the ability to benefit by passing an approved test. Applicants with a high school diploma or equivalent must provide to the institute showing a graduation date or a transcript of the GED test scores. The school keeps the documentation on file.
If the school enrolls a person who does not possess a high school diploma or recognized equivalency certificate (non-degree program only):
The determination of the applicant's ability to benefit from the training offered must be confirmed by documentation of the applicants achievement of an approved score on a test or tests that have been reviewed by a qualified, independent third party for appropriateness of the instrument and specific score levels required for admission.
The acceptable score ensures that students will benefit from the training provided and that a substantial number of students will complete the training and be employed in the field for which training was provided.
In addition to the above-mentioned admissions requirements, the following criteria are required for admissions to the Truck Driving Programs:
Must be twenty-one years of age by the time the program is completed for an interstate license and eighteen years of age by the time the program is completed for an intrastate license.
Must have an active Arizona driver's license before you can receive an Arizona CDL.
Must be able to read and speak the English language sufficiently to converse with the general public to understand highway traffic signs and signals in the English language, to respond to official inquiries, and to make entries on reports and records.
Must have proof of at least one (1) consecutive year of driving experience with a standard operator's license issued by state or country.
For any questions regarding admission policies, please call us toll-free at (877) 205-2141.
Contact Us
Tucson
6251 S. Wilmot Road
Tucson
,
AZ
85756
877.205.2141
Yuma
3180 E. 32nd St.
Yuma
,
AZ
85365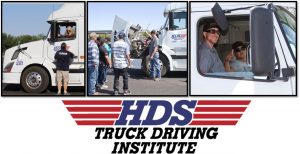 We are proud to host the CDL Class A Driver Job Fair March 15th from 2:30 pm until 5:30 pm!
You don't want to miss this career fair–talk with companies ready to hire you! Learn about employment opportunities in the oil and transportation industry and start making the money you deserve! Fill out an application and have some eegee's on us!
Call us today at 1-888-266-7534!