What Our Students Are Saying
"I attended HDS in January to February 2013. The instructors were very thorough and very fun to learn from. We all laughed and had a good time in class learning all the things we needed to know for becoming a professional driver. I learned a lot and took everything in as fast as I could and thanked all the instructors for the great time for learning and teaching us all we needed to know in the short time we had together. I attended my driver training at Stevens Transport at the end of February. I went through a long and very instructive training process. I had a lot of fun doing it though. In September of 2013 I graduated from Stevens Transport OTR Training Program. I was a company driver for about 45 days and went onto becoming a Lease operator in August. I have had a lot of success with my career thanks to all my training at HDS and at Stevens Transport. Thanks to all for a successful career from HDS and the instructors."
"In late 2009 I [was] looking to start a career as a trucker. I was greeted by AnnMarie Connor. She was very helpful explaining everything and made me feel very comfortable. Before I knew it I was attending the school and had a pre hire letter from DSW. After school was over I was officially hired on as a solo driver with DSW. The process of going straight from the school to a solo driver with DSW was flawless. Within days I was placed with a mentor to start my OTR training. After my six weeks of OTR training was over I didn't have to wait to get on a truck of my own. The driver managers at DSW were always very helpful and kept me running and making good money. After 6 months as a company driver I made the leap to become an owner operator with the company. Again the process was flawless and was in my own truck in no time. It has been over two years now since I became an owner operator. DSW has always been there if I needed any help. The miles are great and the money is even better. My experience … has been a very positive one. I am a successful owner operator and have a great track record all thanks to everyone … who helped me along the way."
"I chose HDS because I wanted my CDL. They worked with me every step of the way. Every instructor was willing to help me learn the skills that I needed. Every instructor was kind. Every instructor had something to teach. And every instructor was more than willing to help me. The instructors don't just pay attention to what you need to know…they pay attention to how long you're going to be there and the speed at which you need to learn. They tailor to the students needs the best they can. HDS was a big, big help to me. They really helped me achieve my goal.
[Truck driving] is going be the life for me."
"HDS covered what I needed to know to get on the road and start a career as a truck driver. The instructors are quite knowledgeable. They've been truck drivers and know everything that needs to be known to become a truck driver."
Contact Us
Tucson
6251 S. Wilmot Road
Tucson
,
AZ
85756
877.205.2141
Yuma
3180 E. 32nd St.
Yuma
,
AZ
85365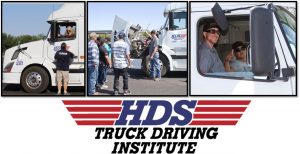 Trucking Career Fair!
You don't want to miss our next career fair! Talk with companies about employment opportunities in the transportation industry and start making the money you deserve!
Fill out an application and have some pizza and an eegee on us! There will also be a raffle for valuable door prizes.
Thursday, June 14th
2:30 pm to 5:30 pm
Call us today at 877.205.2141!